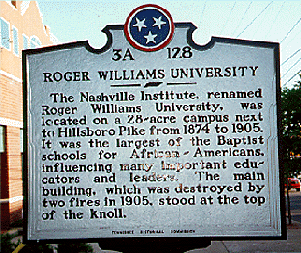 (School where Rev. J.W. Stewart attended)
ROGER WILLIAMS UNIVERSITY
The Nashville Institute, renamed Roger Williams University, was located on a 78 acre campus next to Hillsboro Pike from 1874 to 1905. It was the largest of the Baptist schools for African - Americans, influencing many important educators and leaders. The main building, which was destroyed by two fires in 1905, stood at the top of the knoll.